A6 Flyer Printing
(Not Folded)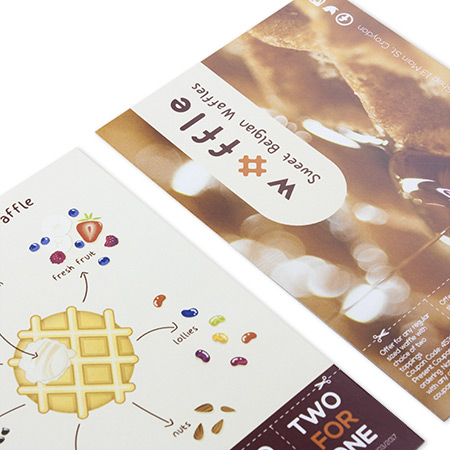 *My Artwork Options (Click to Expand)
Not sure which option to choose?
Explanations can be found below:
I have Press Ready Files
Only select this option if your artwork is 100% press ready and complies with all of our artwork requirements.
Artwork must be the correct size.
Artwork must have correct internal bleed.
Artwork must have correct external bleed.
All borders must be setup as per our guidelines.
Check & Make Press Ready
Not sure if your artwork is press ready? Then this is the option for you!
This includes us checking your artwork and where possible making it acceptable for commercial printing.
Please note, this option does not include making small changes to your artwork (typesetting & design) or creating your design from scratch (graphic design).
For a full description of this service, please click here.
Affordable Design Service
Need some inspiration? This option is our affordable Graphic Design service.
This service involves the creation of your artwork from scratch to the finished form, ready for printing.
A full description of what is included in our affordable design service can be found by clicking here.
*Dispatch for NON-PRIORITY orders is always an estimate. Dispatch for PRIORITY orders is guaranteed. Click here for cut-off times and more details.
Order Your Printed A6 Flyers
Printed A6 flyers are a particularly fast and effective way to get your message across to anyone. Being easy to bundle and distribute in crowds they are perfectly suited to outdoor marketing promotions such as shop openings, flash sales, gigs or concerts.
Popular uses for A6 flyers are for notices, posters, instruction sheets, sale flyers, leaflet drops, handouts, technical sheets and much more.
Printing Options
Exclusively printed in Australia, we offer a wide range of specifications for A6 flyers through our instant pricing calculator.
Size:
A6 (105 x 148mm)
Printing:
Full colour or black and white single or double sided
Paper Stocks:
We offer A6 flyers in paper weights ranging from 115gsm, 150gsm through to 170gsm. Our most popular paper stocks are definitely gloss or matt-satin artpaper and we offer uncoated and recycled options as well. Heavier and thicker stocks such as 250gsm or 350gsm (often used for postcards) are available in our A6 card range.
In addition to our standard range, we can quote on any custom requirements you may have. Just contact us or fill in our custom quote form and one of our team will gladly assist you.
Do you need an eye-catching design? Let our experienced graphic designers take the hassle away. They would love to do the hard work and tailor a striking design for you.
We also offer online prices for other popular sizes such as A3, A4, A5 and DL.
You may also be interested in: